The Winter Masque
Well, it's been a long time since I posted anything here (sorry about that).
I'm usually found at
Live Journal
.
Since I last posted (September 2009 – yikes!) I've moved my newsletter to a
Yahoo Group
where I set craft challenges on a regular basis (usually every week but less recently).
The current Melted Fabrics challenge is a 2 month challenge (December 2010 - January 2011) called
The Winter Masque
.
The challenge is to make something (involving stitch and/or fabric) for the Winter Masque - this could be a ballgown (if you have that much free time on your hands!), a face mask, a tiara, a wall hanging (every good Masque has to have gorgeous hangings on the wall!), other decorations like Chritmas tree baubles, a bag, a belt, etc etc.
There are prizes too. So far I'm offering:
And a CD containing all of my Textiles e-books.
There may be more prizes added to the pool later that the winners can choose from.
I've just thought - apologies if you live in the Southern Hemisphere - I didn't even think about that and if you do then you're quite welcome to make something Summery for the Winter Masque instead!
After doing Nanowrimo all last month my creativity has pretty much dried up so I thought I'd use this opportunity to brainstorm ideas for the Winter Masque and think about what I might produce.
My first plan was to look through half finished Winter projects to see if there was anything I could finish for this project (you can check out some of my other
unfinished projects here
- unfortunately there is still a pile that I haven't added to this lens yet!):
I have the Winter Art Quilt to finish but don't feel very motivated to do it:
And a few of these felted baubles which I think would make great tree decorations:
And then I thought I'd have a look through stuff that is either finished or mostly finished for ideas...
A detail from an Advent calendar that needs the backing put on and tabs:
I love the colours used in the piece above - and the idea of a Winter forest with snow in the trees and little birds.
One of the pieces that immediately came to mind when thinking about Winter was this bag:
The colours in the discs would be good for this project.
And also the use of certain marbles, trapped under organza that have an icy look to them:
I really loved the Northern Lights pictures I found for the Winter Masque lens and I have a thing about the Arctic so that might offer me some interesting opportunities to explore.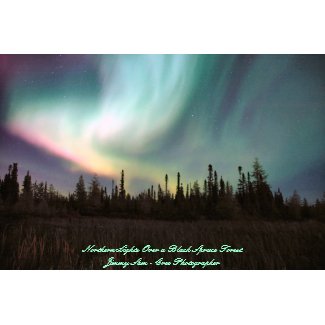 Northern Lights Over a Black Spruce Forest by jimmysam
Browse Northern Posters
One of my favourite textiles books is
Contemporary Quilts by Sandra Meech
and that has some gorgeous quilts in it based on Arctic landscapes.
Sandra Meech transferred a lot of images of the Arctic tundra onto fabric and then quilted them.
I don't think I'll be using image transfers in my project because I'd like to use up a lot of fabric and other materials that I already have in my stash – plus I haven't been to the Arctic so that might cause a problem too!!
One of my favourite quilts of Sandra Meech is a piece (Spring Thaw on pp 26-27) where she's patchworked squares of image transferred and quilted fabric together (Articscape on p76 is also a favourite and uses long lines of fabric instead of squares).
I quite like the idea of creating lots of little samples of different experiments and patchworking those together. I've been thinking about experimenting with different ways to portray ice and snow and so on in textiles.
I'd quite like to play with making bits like this little melted plastic piece again:
It's been a long time since I properly played with fabric and tried to discover something new and making smaller pieces that are later patched together are easier to carry around during the holiday season!
So I guess that's given me something to think about - my Winter project will most likely be an exploration of texture and colour.